Ana Sayfaya Dön
XIII. Istanbul Internatıonal Archıtecture and Urban Fılms Festıval – Festıval
---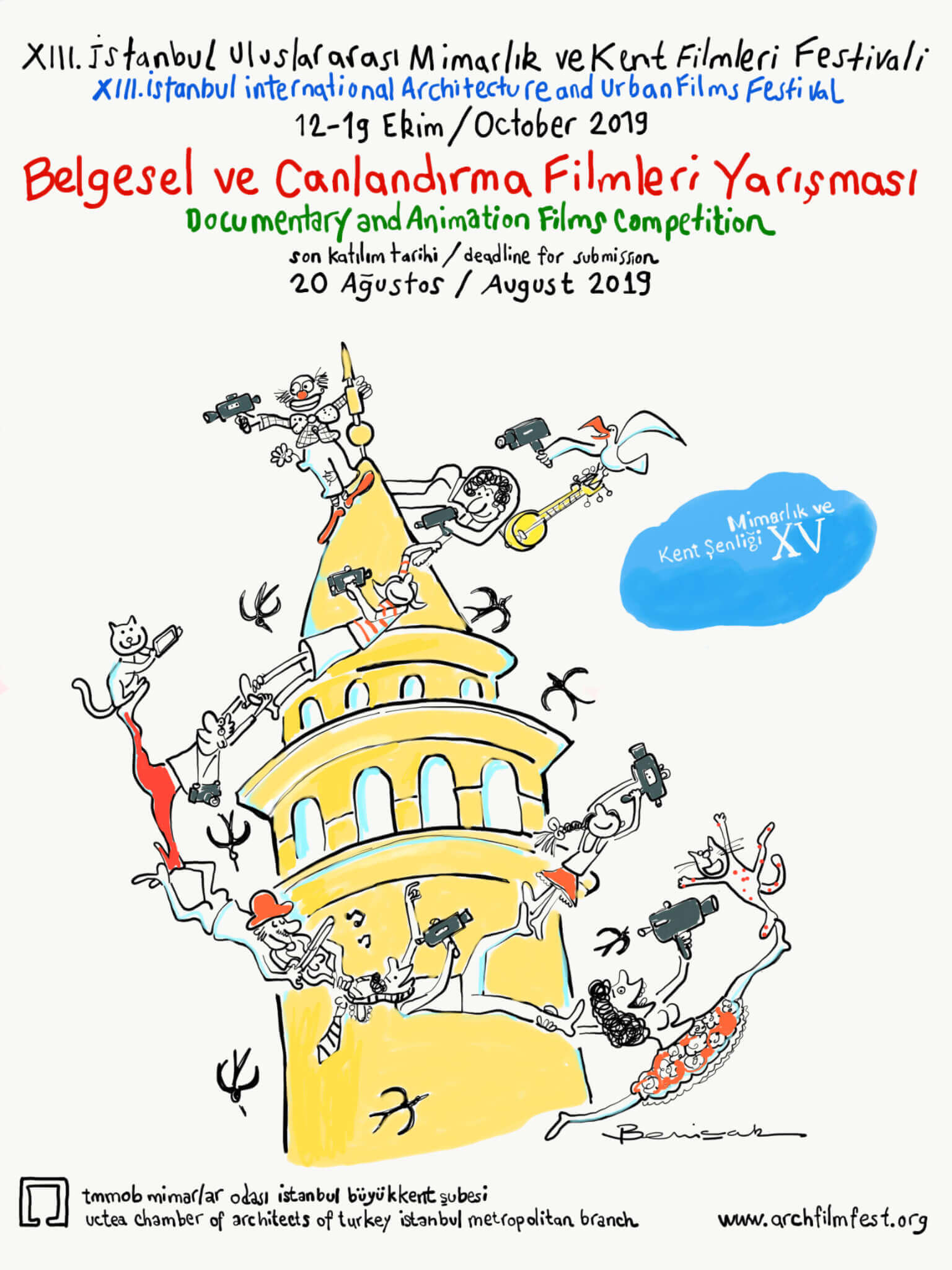 XIII. ISTANBUL INTERNATIONAL
ARCHITECTURE AND URBAN FILMS FESTIVAL
12 to 19 October 2019
PURPOSE:
Since its foundation in 1954, the Chamber of Architects has been working intensively in the development of the architectural culture, preserving the historical heritage and improving the quality of life. Starting from 2007, it has organized "Istanbul International Architecture and Urban Films Festival". The aim of the event is to ensure the effective participation of every sector who are interested in this field, especially the architects.
The festival is scheduled as a part of "Architecture and Urban Festival" organized by Istanbul Metropolitan Branch of Chamber of Architects by virtue of the "World Architecture Day", a day widely celebrated in the world in the first Monday of October every year.
An international competition is organized and awards are delivered under "Istanbul International Architecture and Urban Films Festival".
The Special Jury Prize in memory of Architect Sami Yılmaztürk who devoted himself to The Chamber of Architects, attentively gave efforts to the Film Festival and died in 7th of March 2018 will be given to a sellected film in the national category.
The festival intends to support produced films and encourage new productions that focus on the field of "architecture and urban", as well as have acclaimed films in that field meet the audience.
SCOPE:
The festival features types of films including documentaries and animations. Domestic and foreign candidate films which pass the preliminary selection stage meet the audience, and a competition is organized among those films. Miscellaneous conversations and events may also be held to ensure exchange of ideas between participants regarding the subject matter.
CONDITIONS FOR APPLYING TO 2019 INTERNATIONAL COMPETITION:
1. Films eligible for the competition include documentaries and animations produced in the last 2 years featuring architecture and urban issues. Films should not have participated in this festival before.
2. Films attending in the competition are limited to 60 minutes.
3. a) Foreign films which are not in English language will have English subtitles.
   b) Domestic films which are not in Turkish language will have Turkish and English subtitles.
   c) Domestic films in Turkish language will have English subtitles.
4. Regardless of the original format, the film should be sent to the organizer committee on memory card or USB flash drive (in MPEG2, MP4 or H.264 format).
Films can also be sent through online data transfer programs (Wimeo, Wetransfer, etc.) and by "filmfreeway" web page.
Application form is available at www.archfilmfest.org; said form, accompanied with any other documents, should be returned to archfilmfest@archfilmfest.org. In case of any technical problems during preview of film, the director will be notified. The director must send a new copy no later than 48 hours. Otherwise, the film will be excluded from evaluation process.
5. Copies of film to be sent to the Organizer Committee by the competitor must be accompanied by:
a) Competition application form
b) 2 images from movie
c) 1 photograph of director
d) Turkish and English biography of directors participating from Turkey, and English biography of international directors (50 words maximum)
e) Film plot (50 words maximum). Furthermore, 5 minutes trailer of each film should be included.
f) The selection committee will have the right to exclude from competition any films which fail to duly meet application conditions.
6. Participants may participate in the competition with multiple films.
7. Films passing the elimination stage will be placed in the festival archive, and can be included in non-commercial displays upon notification to the director. Films included in festival display program can be displayed to public for education and non-commercial purposes which the film directors and producers will be deemed to have accepted and agreed.
8. Of the films that participate in the competition, the Festival Organizer Committee may include in the festival program all or some of the films passing the preliminary elimination. Such films will be evaluated by the jury, and the winners will be awarded.
9. Announcement of Competition: 20 May 2019
10. Application Deadline: 20 August 2019
Films delivered by courier must be submitted to the courier by no later than 20 August 2019.
11. Announcement of Results: Films to be displayed will be announced on 2 September 2019 while the winners will be announced in the awards ceremony on 19 October 2019.
12. The author shall be liable for any third party copyright claims which may arise during display of films.
13. If required, the Organizer Committee may change any Selection Committee members, and constitute a preliminary jury.
14. Awards:
Sami Yılmaztürk Jury Special Prize: Award Plaque and 5.000.- Turkish Lira (in the national category)
First Prize: Award Plaque and 5.000.- Turkish Lira
Second Prize: Award Plaque and 3.000.- Turkish Lira
Third Prize: Award Plaque and 2.000.- Turkish Lira
Prize plaques will be given to the awarded directors or filmmakers who receive awards and participate in the award ceremony. Directors who can not attend the ceremony will be given their prizes to referred bank accounts. The festival will pay bank charges in Turkey, the festival is not responsible for the commission of intermediary banks.
15. Board Members and employees of Istanbul Metropolitan Branch, Chamber of Architects, Union of Chambers of Turkish Architects and Engineers (TMMOB), selection committee members, those whom selection committee members provide consultancy and/or act as a business/project partner, etc., and their first degree relatives cannot participate in the competition.
16. Decision of selection committee is final. Decisions are made by majority of votes.
COMPETITION SELECTION COMMITTEE:
Süheyla Acar (Scriptwriter-Author)
Selim Demirdelen (Director-Musician-Actor)
İsmail Doğanyılmaz (Architect, M.Arch.)
Yasemin Dura (Architect)
Hilmi Etikan (Documentary Director-Istanbul International Short Film Festival Executive)
Nalan Kuruçim (Actress)
Zeynep Talayer (Architect, M.Arch.)
Mustafa Ünlü (Director)
Mücella Yapıcı (Architect, M.Arch.)
ORGANIZER COMMITTEE:
Esin Köymen (Chairman of The Board, Istanbul Metropolitan Branch, Chamber of Architects)
Ali Hacıalioğlu (The Board Secretary Member, Istanbul Metropolitan Branch, Chamber of Architects)
Hilmi Etikan (Documentary Director-Istanbul International Short Film Festival Executive)
Mücella Yapıcı (Architect, M.Arch.)
İsmail Doğanyılmaz (Architect, M.Arch.)
Yasemin Dura (Architect-Artist)
Selma Erdem (Festival Secretary)
APPLICATION ADDRESS:
Selma Erdem
Union of Chambers of Turkish Architects and Engineers (TMMOB), Chamber of Architects
Istanbul Metropolitan Branch
Karaköy, Kemankeş Cad. No. 31
Beyoğlu 34425 Istanbul
Tel: (212) 251 49 00 – 205
Fax: (212) 251 94 14
E-mail: archfilmfest@archfilmfest.org – arsiv@mimarist.org
Web: www.archfilmfest.org